It is my honor and privilege to serve as YPO's next conductor, take part in GDYO's mission for music education, and serve our community.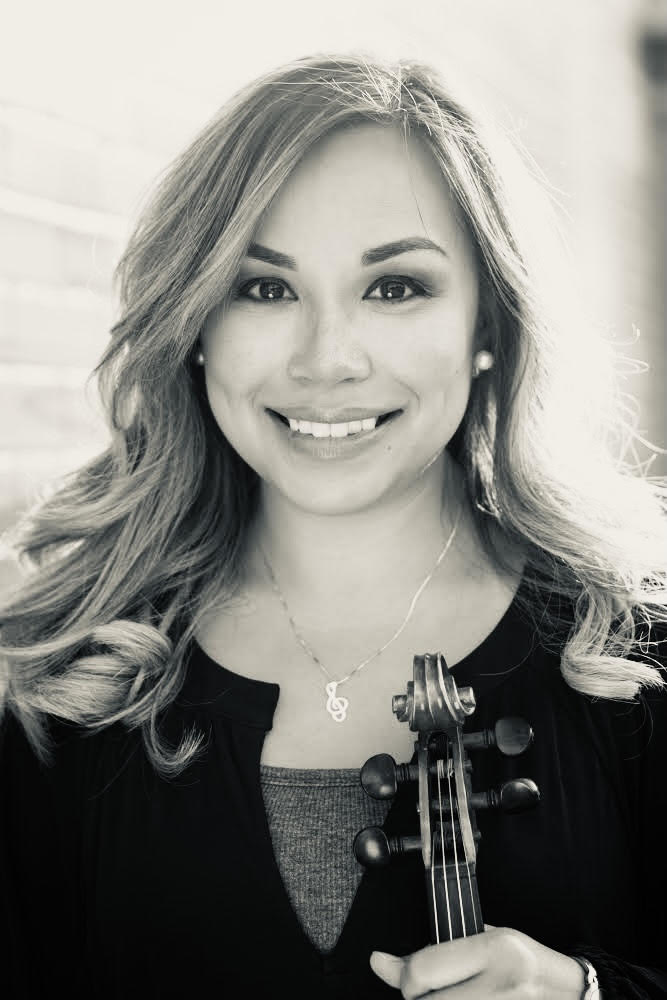 Charilyne Rojas is the newest conductor of GDYO's Young Performers Orchestra (YPO). In addition to music education, she has also worked in arts administration and nonprofit consulting. Ms. Rojas earned her Bachelors in Music Education from the University of North Texas before starting her career in the classroom as an Orchestra Director. She also served as General Manager for a local Baroque orchestra, and her love for nonprofits and community organizations led her to earn a certificate in nonprofit management. Before starting her own family, Ms. Rojas maintained a private studio teaching toddlers to adults and started a student-led organization, Concerts for a Cause, which allows students to share music through volunteerism.
Ms. Rojas believes arts & culture can strengthen families, schools, and communities in partnership, and is excited to take part in GDYO's mission for music education and continue engaging our communities. Her diverse experiences have all helped shape her musical philosophy and holistic teaching approach. With nearly two decades of teaching experience, Ms. Rojas finds great joy in sharing the gifts of music with others and helping her students reach their musical goals.
WHY DID YOU JOIN GDYO?
While I loved playing in my school orchestra every day, GDYO offered the extra challenge I needed. I enjoyed (and was grateful for) our full orchestra season and playing in the pit orchestra for our musicals at school, but those opportunities were once a year. At GDYO, I could look forward to creating symphonic music and stretching my musicianship in rehearsal every week. Through my experience, I also learned more than just music: I learned professionalism, accountability, and leadership. I only wish I had learned of GDYO much sooner!
WHAT WAS ONE OF YOUR FAVORITE GDYO MEMORIES?
My favorite GDYO memories were the performances in some of the incredible and historic venues around Dallas. I specifically remember playing onstage at the Meyerson – I had already attended several concerts there and performed on that stage with my school orchestras growing up, but it sounded (and felt) so different with a full orchestra. Later on, taking my own groups to perform at the same venues like the Meyerson or Majestic Theater brought back these special memories, and I also had some firsthand insight to share with my students.
WHAT INSPIRED YOU TO PURSUE A CAREER IN MUSIC EDUCATION?
I think I always knew I would be a teacher someday – I had many wonderful teachers and education is also a profession that proudly runs in my family (my grandfather was a principal and superintendent.) I was also very lucky to have had incredibly supportive music teachers and orchestra directors growing up! Though I have been learning music nearly all my life, it never occurred to me that maybe I could teach music until late in high school when I tutored some of the underclassmen. My first real hands on experience was in college, when I joined the UNT String Project and taught weekly group lessons to Denton area students from grades 2-12. I loved it so much that I taught throughout my entire four years at UNT! I felt like my calling was confirmed when I did my student teaching in Plano ISD with Mary Havenstrite and Brian Coatney, with whom I really enjoyed learning from and working with.
WHY DID YOU CHOOSE THE COLLEGE YOU ATTENDED?
I wanted to attend college in-state to get the best value for my education, and to have the ability to easily visit my parents who still live in the area. I chose the University of North Texas because of their INCREDIBLE music education program and faculty!
WHAT FACTORS SHOULD PROSPECTIVE MUSIC EDUCATION/PERFORMING ARTS STUDENTS CONSIDER WHEN CHOOSING A SCHOOL?
I believe selecting a college/university ultimately comes down to personal preferences (cost, location, distance, school size and feel, etc.) But I would specifically recommend music/performing arts students to consider class sizes (teacher-student ratios can affect your learning needs), particular faculty you would like to learn from (both in your performing concentration and your major at large), ensemble/performance opportunities, and rehearsal facilities (where you will be spending a lot of time, no matter your major!)
IS THERE ANYTHING THAT YOU WISH YOU KNEW BEFORE PURSUING MUSIC EDUCATION?
I like to say that teaching music is only half the job of a school music educator – the other half is actually arts administration! In many ways, running a school music program is a lot like running a small nonprofit: you have to fundraise, market/recruit, plan events, handle customer service (aka parents) etc. and you are often wearing multiple hats at once (especially if you don't have an assistant.) In retrospect, I wish there was more practical teacher training in these aspects of the job to allow more focus on teaching and the kids.
Now in our era of technology, there is a wealth of free information out there about every subject. But I still believe young teachers would greatly benefit from this in the college curriculum, rather than just glimpses within the student teaching internship. Ongoing professional development is essential, but having more knowledge about these areas of the job before entering the classroom as a head director would have been beneficial (or at least easier than the sink-or-swim method!)
TELL US MORE ABOUT YOUR CAREER PATH.
Immediately after graduating from UNT, I was served as Orchestra Director at Shadow Ridge Middle School in Flower Mound from 2010-2017. Some of my favorite memories are from my years in the classroom, and it was rewarding for me to have some of my own students join GDYO. After a move and some other life changes, I decided to try something I had always been interested in: arts administration! I loved working in the nonprofit world and got to do some really cool things like produce an opera and partner with schools and community organizations. But I also missed teaching, so I started an in-home private lessons/tutoring business. During that time, I even applied for a job with GDYO that I (rightfully) did not get.
Between starting my family and the pandemic, I had to put my private studio aside. Then earlier this year, GDYO offered me an opportunity to manage their social media and virtual content. I was overjoyed to accept, and to my surprise a few months later, the YPO opening was announced and – well, the rest is history! Opportunity can strike at any moment, and I think my career path is proof that it's important to keep doors open (even after you think they're shut), take risks, and never give up. You never know if the next person you meet or the next failure you encounter might lead to a bigger opportunity meant for you. Even the organizations you're a member of right now or in college could lead to a future prospect.
I also freelance as a violinist/violist when my schedule allows, and I hope to revive my student-led organization Concerts for a Cause which facilitates student-directed performances in places like nursing homes and hospitals. I started this organization because I missed doing community performances with my orchestra students, and I enjoy helping students share their music through volunteerism. Music is meant to be shared with others and spread joy!
HOW DO YOU FEEL THAT GDYO PREPARED YOU FOR YOUR CAREER AS A TEACHER/PROFESSIONAL MUSICIAN?
Aside from exposing me to mature literature, GDYO most helped prepare me for a career in music by teaching me professionalism and leadership. Working with professional conductors and coaches in fast-paced, hardworking rehearsals prepared me for leading a fast-paced middle school classroom. Mr. Frank's high artistic standards prepared me to keep high standards for my own students, and never settle for less. He was a master at improving the ensemble each week by giving constructive feedback without embarrassing any single student. And just when things got too serious, he always knew how to throw in a joke and keep things light – a great reminder for all music educators to keep your sense of humor in the classroom, because music making is supposed to be fun!
WHAT UNIQUE CHALLENGES & REWARDS COME FROM WORKING AS A MUSIC EDUCATOR?
In my experience, the greatest challenges I faced as a music educator were not pedagogy-based, but rather balancing everything else especially if you are working solo: things like curriculum planning, administration, and setting consistent systems and processes in my classroom (kids need consistency!) Having those fundamental routines in place helps make teaching much smoother and more enjoyable for you, and believe it or not you can spice up routines to make it fun for the kids too!
The greatest reward was feeling appreciated by the parents, administrators, and fellow staff, but most importantly from my students. After all the long hours of practice and preparation that go into every performance, my favorite moments were always after the concerts – congratulating the kids, recognizing their progress, celebrating with them, and taking pride in their performance no matter how it went. Teaching music has also made me a stronger musician and communicator.
WHAT CAREER ACHIEVEMENTS ARE YOU MOST PROUD OF AND WHY?
In school, awards like UIL sweepstakes or festival awards are excellent goals to reach and can be great motivators for kids if structured appropriately. But the achievement I'm proudest of during my time in the classroom was not any of those awards – it was doubling the size of our program. The awards helped as everyone wants to be part of a "winning" team, but my greatest joy came from hearing my students share their love for Orchestra to recruit their friends and family! I was able to see students graduate from my program and then teach their brothers and sisters the next year. I loved building lasting relationships with these families, and still keep in touch with many of them today.
During my brief time as General Manager for the Orchestra of New Spain, I was proud to help achieve record concert attendance and donations for the 17-18 season. Since managing GDYO's social media and digital content this year, I am proud to see the continued growth and engagement in our online presence. Now I am most proud (and excited!) to lead YPO in our milestone 50th anniversary season.
HOW CAN THE REALITY OF A CAREER IN MUSIC DIFFER FROM TYPICAL EXPECTATIONS?
I believe artists (including musicians of all kinds) are naturally passionate people – but the reality in creating a sustainable career in music, rather than an amateur hobby, is that your work ethic must exceed your passion. Of course you need to be passionate about your music—whether you are writing it, performing it, or teaching it—in order to stay motivated and creative. But you have to do more than love what you do: you have to be willing to work too. Failure is also a natural part of life and of work, so without a resilient work ethic, your passion can't become a reality. Both in music and in anything worth doing in life, you need to show up every day and be consistent, which in turn will also build your resilience. I've never agreed with the saying "If you love what you do, you'll never work a day in your life!" because to me, it's those moments of overcoming struggle, sweat, and perseverance which gives meaning to every performance or makes the success even sweeter.
WHAT ADVICE WOULD YOU GIVE TO GDYO STUDENTS, AND TO THOSE CONSIDERING A CAREER IN MUSIC EDUCATION?
To GDYO students: Aside from working diligently and being consistent, I encourage you to enjoy both the music and the process. The versatile skills you are learning in music can be applied to every career in any field, so stick with it. Take risks and don't give up, but also let go of perfection and know when it's time to quit (I know that goes against our nature as musicians!) Treat every failure as an opportunity. Remember that nobody's life or career path is absolutely linear – some of us will serve multiple purposes throughout our lifetimes. And never take your health, family, or good times for granted while you are young!
Specifically for future teachers: organization, time management, and preparation is key to allow more focus and enjoyment with your students. Prioritize your physical/mental health and regular self-care both for your own sake, and to ensure you are giving your students the best version of yourself every day. A happy teacher has better chances for making happy students too 🙂 Set boundaries and make sure you're not putting too much on your personal plate (or to your program's plate) at once. Find other hobbies and keep learning to stay inspired and balanced. Teaching is hard work, so all of these things are necessary for a sustainable career. Also, you don't have to be the most incredible instrumentalist (or XYZ) to be an inspiring and wonderful teacher – we learn and improve over the course of our lifetimes, but I believe the most important qualities for a future teacher is passion and dedication. If you love what you do and are devoted to practicing it, everything else really will fall into place!
Most importantly, ask yourself if you truly like working with kids. Better yet, get some hands on experience babysitting, tutoring, or shadowing a teacher! If you want to teach music to students at the elementary/secondary levels, be prepared to be patient, repetitive, firm but flexible, and nurturing. Every child makes mistakes, but each child also has a different personality and learning style, so you can't treat them all the same. It's true: teaching children is difficult work sometimes, but it is such a personally rewarding experience to watch your students grow as musicians and young people in the process. Music is truly the gift that keeps on giving!
ANY HOBBIES, FUN FACTS, OR LIFE HIGHLIGHTS OUTSIDE YOUR CAREER YOU'D LIKE TO SHARE?
My daughters are my favorite parts of life! I still enjoy performing when I can, and I'm also very interested in other fields like music history and music learning/therapy/neuroscience. Aside from music and teaching, I also enjoy cooking, watching scary movies/musicals, traveling, experiencing different cultures, and hiking – I have climbed Machu Picchu and Mt. Etna (the volcano) in Sicily. I also love party planning and finding any reason to celebrate!
WHAT ARE SOME OF YOUR PERSONAL AND/OR PROFESSIONAL GOALS FOR THE FUTURE?
Some of my professional goals include expanding my consulting work, reviving my student-led organization Concerts for a Cause, going back to school, dand continuing to support and advocate for all the things I care about: school music programs, community organizations, local arts & culture, STEAM, music therapy, and arts advocacy/accessibility.
Some of my personal goals include teaching my daughters violin when they are a bit older, memorizing all of the Bach Sonatas and Partitas, picking up guitar and ukulele again, visiting all 50 states and as many countries as I can, and learning to cook as well as my Dad!
THANK YOU CHARILYNE FOR STEPPING INTO GDYO'S ALUMNI SPOTLIGHT! 
IF YOU OR SOMEONE YOU KNOW WOULD BE INTERESTED IN SHARING THE ALUMNI SPOTLIGHT OR WOULD LIKE MORE INFORMATION ABOUT THE GDYO ALUMNI ASSOCIATION, CONTACT HER AT CHARILYNE@GDYO.ORG.

FOLLOW US @GREATERDALLASYO & ON OUR ALUMNI ASSOCIATION FACEBOOK PAGE FOR ALL THE LATEST NEWS, EVENTS, & UPDATES!