GDYO helped push me towards loving orchestra repertoire and wanting to do it full time.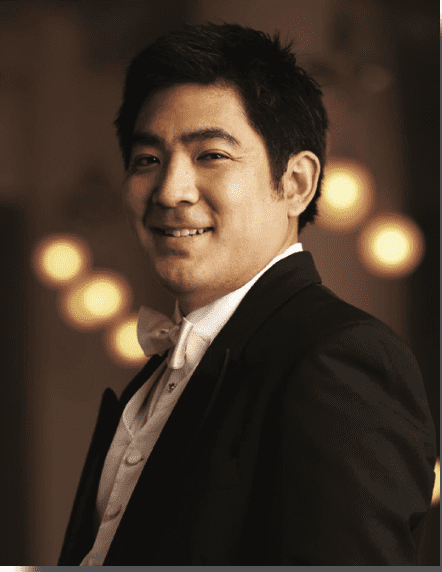 Jun Iwasaki was appointed Concertmaster of the Kansas City Symphony by Music Director Michael Stern and will start at the beginning of the 2022/23 season. A graduate of the Cleveland Institute of Music's prestigious Concertmaster Academy, he has been hailed for his combination of dazzling technique and lyrical musicianship. In a review of Iwasaki's performance at the Mimir Chamber Music Festival, the Fort Worth Star Telegram called him "the magician of the evening. He could reach into his violin and pull out bouquets of sound, then reach behind your ear and touch your soul."
Prior to joining the Kansas City Symphony, Iwasaki served as concertmaster of the Nashville Symphony from 2011-2022 and the Oregon Symphony from 2007-11. Throughout his career, he has appeared with numerous other orchestras, including the Tokyo Symphony Orchestra, Oregon, Symphony, Columbia Symphony Orchestra, Blossom Festival Orchestra, Rome (Georgia) Philharmonic, New Bedford Symphony, Canton Symphony, Richardson Symphony, Cleveland Pops Orchestra, Plano Symphony Orchestra, and the Huntsville Symphony. In addition, he has served as guest concertmaster of the Pittsburgh Symphony, Gulbenkian Orchestra (Portugal), São Paulo Symphony Orchestra (Brazil), Santa Barbara Symphony, National Arts Center Orchestra (Ottawa), and Canton (Ohio) Symphony Orchestra.
As a chamber musician, Jun has been a part of the Seattle Chamber Music Festival, La Jolla Summerfest, Chamber Music Northwest, Mainly Mozart, Chamber Music International, and Mimir Chamber Music Festival among others.
In addition to teaching at Vanderbilt University's Blair School of Music, Iwasaki also served as the artistic director of Portland Summer Ensembles in Portland, Oregon, a workshop for young musicians focusing on chamber music.
WHEN DID YOU START STUDYING MUSIC, AND WHAT WAS IT LIKE GROWING UP IN A MUSICAL FAMILY? HOW DID YOUR FAMILY HELP SHAPE YOUR MUSICAL JOURNEY?
I started taking violin lessons around the age of 5. Growing up in a musical family definitely helped me decide that I wanted to pursue music as a career. But I think also think it was a great way to grow up having music as part of our daily lives.
WHAT WAS YOUR FAVORITE GDYO EXPERIENCE OR MEMORY? DO YOU FEEL THAT GDYO HAD AN IMPACT ON YOUR LIFE?
I enjoyed the tours but more importantly, I think GDYO helped push me towards loving orchestra repertoire and wanting to do it full time.
TELL US ABOUT WHAT YOU'VE BEEN UP TO SINCE GRADUATING FROM GDYO.
Quite a lot since it's been 22 years. After finishing my studies in Cleveland, OH, I was the concertmaster of the Oregon Symphony from 2007-2011, then concertmaster of the Nashville Symphony from 2011-2022, and starting this season I am the concertmaster of the Kansas City Symphony.
WHAT LIFE ACHIEVEMENTS ARE YOU MOST PROUD OF SO FAR & WHY?
Getting married to my wife and raising our two sons.
TELL US ABOUT SOME OF YOUR PERSONAL AND/OR PROFESSIONAL GOALS FOR THE FUTURE.
To continue to inspire the younger generation to enjoy live music.
WHO OR WHAT INSPIRES YOU?
My parents still inspire me as do all of my wonderful colleagues in the music world.
ANY HOBBIES, FUN FACTS OR LIFE HIGHLIGHTS OUTSIDE YOUR CAREER YOU'D LIKE TO SHARE?
I love to cook and I enjoy playing golf.
WHAT ADVICE WOULD YOU GIVE TO CURRENT GDYO STUDENTS?
Enjoy the time you have as you play with your friends in a wonderful group. Those friendships can last a lifetime!
THANK YOU JUN FOR STEPPING INTO GDYO'S ALUMNI SPOTLIGHT!
Hear Jun, his father Ko (a Tchaikovsky Cello Competition winner), and his mother Yurie (collaborative pianist and our own General Manager & Librarian) perform Beethoven's Triple Concerto at our Season Opener & Alumni Homecoming concert this Sunday, October 23!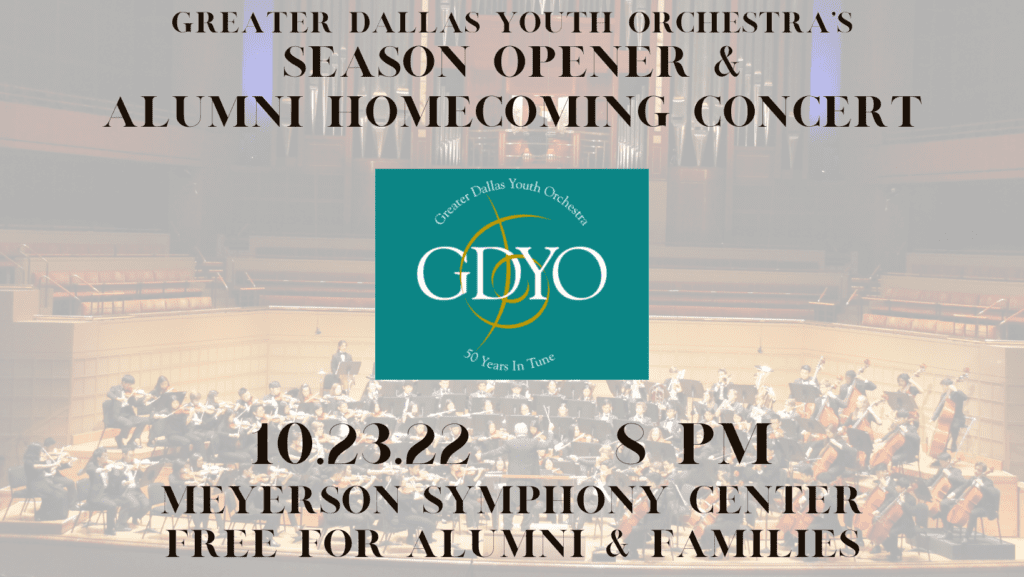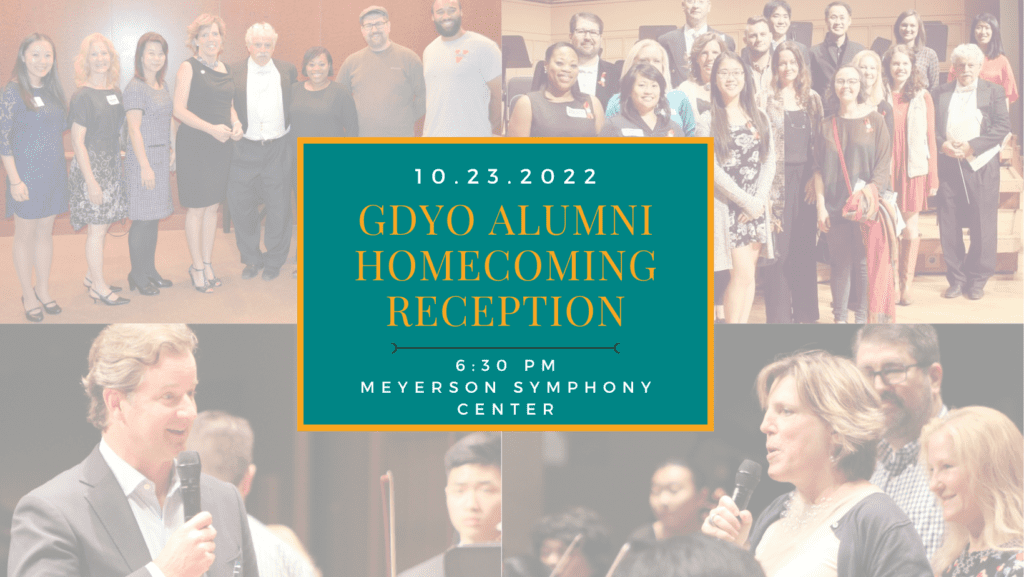 IF YOU OR SOMEONE YOU KNOW WOULD BE INTERESTED IN SHARING THE ALUMNI SPOTLIGHT OR WOULD LIKE MORE INFORMATION ABOUT THE GDYO ALUMNI ASSOCIATION, CONTACT CHARILYNE ROJAS AT CHARILYNE@GDYO.ORG.
FOLLOW US @GREATERDALLASYO & ON OUR ALUMNI ASSOCIATION FACEBOOK PAGE FOR ALL THE LATEST NEWS, EVENTS, & UPDATES – INCLUDING OUR ANNUAL HOMECOMING CONCERT & RECEPTION, FREE FOR ALL ALUMNI & FAMILIES!