GDYO…challenged me with repertoire that I never imagined myself being able to play!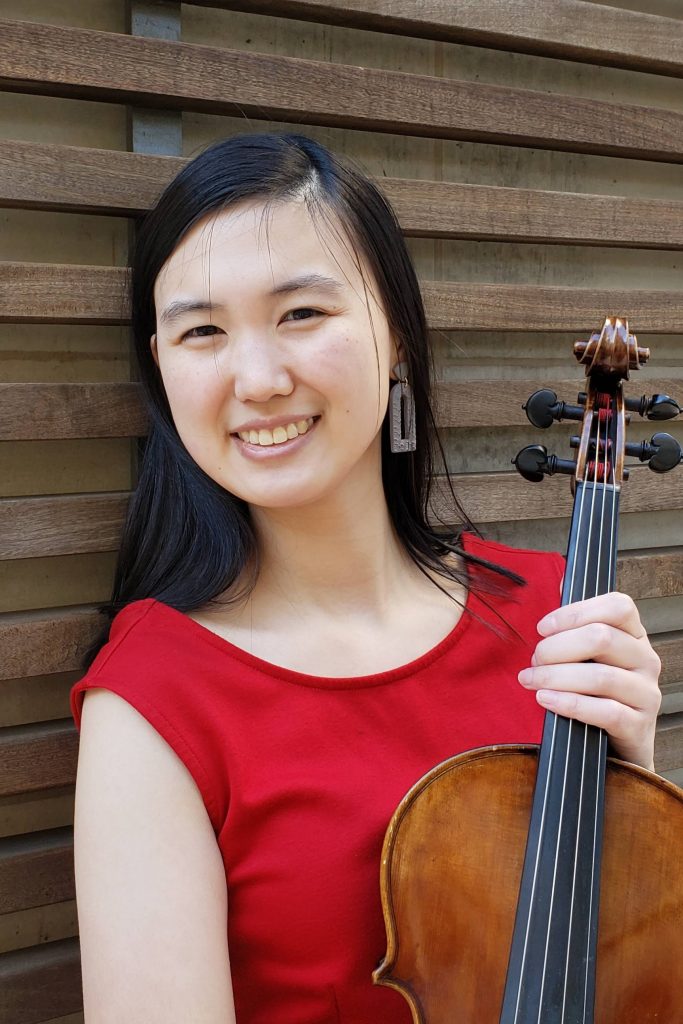 Victoria Lien is the Head Director of Orchestras at Fowler Middle School in Frisco ISD. Born in Plano, Texas, she began her musical career with piano at the age of five and continued with viola throughout school. Growing up in the Dallas metroplex has given her many opportunities, including performing with both the Dallas Asian American Youth Orchestra as the principal violist and the Greater Dallas Youth Orchestra.
Victoria earned her Bachelor of Music degree in Performance with teacher certification (Summa cum Laude with Honors from the Honors College) from Texas Tech University where she studied with Dr. Katrin Meidell and Dr. Kimberly Sparr. During her time at Texas Tech, she taught in String Project, led by Dr. Blair Williams, and led viola sectionals in the high schools. As an orchestral violist, Victoria has also performed with the Texas Tech Symphony Orchestra as well as the Lubbock Symphony Orchestra. In her last year at Texas Tech, she was awarded the honor of winning the 2015-2016 Presser Award. She also recently graduated from the University of North Texas with a Master of Music Education degree under the guidance and supervision of Dr. Elizabeth Chappell. Prior to Fowler, Victoria was the Assistant Director of Orchestras at Liberty High School in Frisco, leading classes and forming the Parent+Teacher Orchestra, a group of beginner parents and teachers who meet once a week to learn to play. In 2021, she was awarded the Teacher of the Year award for Liberty High School and the Top Five Secondary Teacher of the Year for Frisco ISD.
At Fowler, Victoria teaches and leads all of the groups, from the beginners to Legacy Orchestra (the Varsity group). When she is not teaching or playing, Victoria likes to craft and draw, travel, run, and try new foods.
What was your favorite GDYO experience or memory? Do you feel that GDYO had an impact on your life?
My favorite GDYO experience was cramming on a very small stage with so many amazing musicians (I think for the 40th anniversary) and playing the Firebird with very little bowing room! GDYO definitely had a huge impact in my life because it has challenged me with repertoire that I never imagined myself being able to play!
Tell us about what you've been up to since graduating from GDYO.
After graduating from GDYO, I went to Texas Tech for music education and performance and then started teaching in Frisco ISD after graduating at Liberty HS and now at Fowler MS.
What life achievements are you most proud of so far and why?
I think some of my proudest moments include seeing the beginners perform during all of their concerts and the large amount of progress they make day to day, forming the Parent+Teacher Orchestra at Liberty and seeing these adults make music alongside their student on our Spring Concert, performing with the Lubbock Symphony and being selected to be one of the top 5 Teachers of the Year for Frisco ISD last year. Those moments are when I can share in the successes of the musicians I work with and also help affirm to me that I am doing at least something right!
Tell us about some of your personal and/or professional goals for the future.
For now, I'd just like to keep building the orchestra program and would like to eventually get to perform at TMEA with my students!
Who or what inspires you?
My past teachers, the amazing colleagues that I am surrounded by, and my students inspire me each and every day to be a better teacher.
Any hobbies, fun facts, or life highlights outside your career you'd like to share?
On my free time, I generally like to travel (I plan all of my travels to the minute to try to pack everything in!) and try new food places (especially boba).
What advice would you give to current GDYO students?
It's okay to feel intimidated by the people that you are around. You have made it where you are for a reason. Keep working hard and making music!
THANK YOU VICTORIA FOR STEPPING INTO GDYO'S ALUMNI SPOTLIGHT! 
IF YOU OR SOMEONE YOU KNOW WOULD BE INTERESTED IN SHARING THE ALUMNI SPOTLIGHT OR WOULD LIKE MORE INFORMATION ABOUT THE GDYO ALUMNI ASSOCIATION, CONTACT CHARILYNE ROJAS AT CHARILYNE@GDYO.ORG.

FOLLOW US @GREATERDALLASYO & ON OUR ALUMNI ASSOCIATION FACEBOOK PAGE FOR ALL THE LATEST NEWS, EVENTS, & UPDATES!